Chris Reed and the Anime Raiders
About the band Discography Senses (a novel by Chris Reed) Contact Licensing Become an Otaku (join our mailing list)
Streaming now (player below - if it autostarts be sure to hit pause if you want to watch the kickstarter video):
1) Jennifer 2) Dave & Nica - the 2nd single 3)Close Your Eyes - featured tracks from "eleven/eleven"
News! (9/23/12)
It's been a while since we last updated this page so we're here to announce a couple of things. Effective October 1, 2012 none of our albums will be legally available on line in any location on the internet except for this site. We are temporarily suspending sales through iTunes, Amazon and so on. We have discovered that a number of our releases are being sold through vendors we did not authorize - in other words, someone other than us is making money off of our album sales. We are going to put a stop to that, but it will mean for a while that the outlets where you can find our work will be restricted to this site only.
As far as the next album goes - it has taken longer to put together than we thought it would. We had the whole thing written out and had been recording, and we came to realize that it wasn't the best work we could do. A couple of songs have been re-written, and a few abandoned while new songs were written. We're back at work at it, and we hope to have our new release out in 2013. Thanks and love to you all!
Prior News!!!!
After some unexpected delays and dealing with a few issues in the personal lives of the members of the band (Jason got a film offer he couldn't turn down, Kyousuke lives on the other side of Japan, so don't worry about him and no, despite rumors you may of heard Jim did not enter rehab) we're finally back at work on our next album, tentatively called "Deep City Diving". The album will feature some special guests, some of our strongest songs to date and in a first for the band, there will be a tour to support it! We can't live off of "Jennifer" forever (although it's tempting sometimes - see below)
Prior News about the album eleven/eleven! (the music you're listening to now)
"Jennifer" has been in the top 20 on the Independent Music Chart for nearly 3 years, including 23 weeks in the top 5 and one week as the number 1 single in the land, landing back in the top ten in mid-March 2011. The song has legs.
You read that right, "Jennifer" was a number 1 single!!!!!!!
We were nominated by the Independent Music Network for "Favorite Mainstream Group/Duo" for 2009 and again in 2010! We didn't win (we were the runner-up) but that's okay. We love our fans and have a new album already in the works for 2011! In the meantime, you can sill cast your vote for us to help us maintain our chart position!
For those of you who can't catch the radio show with all the nominees, it can be downloaded here. "Jennifer" is played in segment 2 of the December Show (about 1/2 way through) and you can hear a commercial for the album at the end of the segment. We're also in the first segment of the February show.
A magazine interview is in the works about the past year, and we'll have a link to it once we know when it will be published. We have a new single out, called "Dave & Nica", which is the second song in the stream on this page.
New! You can purchase a physical copy of the album for less than the digital download! Click Here!
Ask your radio stations to play "Jennifer" and the new single, "Dave & Nica"!
You can click here to download the single version of "Jennifer" for free!
Streaming here:
1) Jennifer 2) Dave & Nica - the NEW single 3)Close Your Eyes
Released on 9/23/08: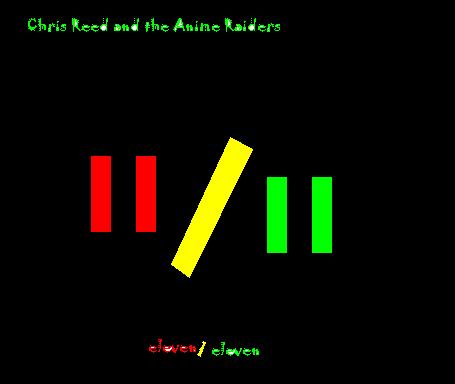 Featuring the hit single, "Jennifer", as well as "Hole in the World" and "Priorities" - both featured on Neil Young's Living With War Today website.
available world wide from the following on-line sales outlets (and others too):
And here is the video for "Jennifer", the first single from the album:
And oh yes, check out WhatTheFuckIsWrongWithYou.org! Chris Rants!!!

And why do we call ourselves the Anime Raiders? Check out The List of anime and manga Chris owns.
++++++++++++++++++++++++++++++++++++
Permission is hereby granted to anyone anywhere in the world to listen to the music of Chris Reed and the Anime Raiders, as well as replay by any means but not limited to websites, podcasts, CD players, radio, television, and any other medium not mentioned here, without payment of any monies whatsoever to RIAA, Soundscan, or any associated or similar organizations - so long as you are not using my music in a for-profit venture or violating the concept of fair usage! They don't own these songs, I do. So I set the rules. So there.
That said, if you plan to use my music to make money outside of fair usage, contact Paul Cynic at Cynical Productions about licensing/publishing.